You are not the only one who suffers from growing adblocking traffic. Many national newspapers and big media holdings face the same problem. Let's see how they interact with adblockers converting them to subscribers or asking them to disable adblocking software:
Le Figaro – the oldest daily newspaper in France and one of the most widely respected newspapers in the world – ran an experiment in 2016. If AdBlock, AdBock Plus, Ghostery or other adblocking software is detected on the user's computer, the article's text becomes blurred. The more pageviews users have, the more blurred the text becomes. This continues until the user signs up for premium membership or disables AdBlock.

You can do exactly the same thing on your website or blog with Mediator.  See live demo here.
Forbes – financial and economic magazine asks adblocking users to pay for subscription to the online version of the edition without advertising or add website to the AdBlock white list. Otherwise, users will not be able to read articles on the online version and they can't even access the site.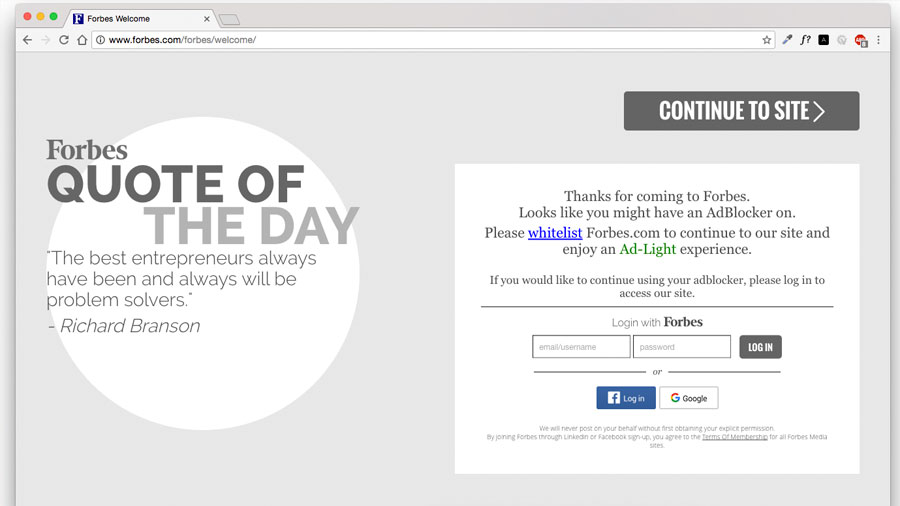 German publishing house Handelsblatt and Zeit Online was not satisfied with the policy against blocker ads on their websites Handelsblatt.com, Wiwo.de and Zeit.de. Hamburg Regional Court heard the case within four months, and then decided that adblocking activities are absolutely legitimate, and users themselves can decide to install an extension or not.

GQ magazine is preventing people using ad blockers from accessing its site with a popup asking them to disable their ad blockers or pay 50 cents to read an article.